Het onderzoek van de afdeling Grieks weerspiegelt de brede visie van de opleiding en bestrijkt de volledige geschiedenis van het Grieks.
Het letterkundig onderzoek houdt zich voornamelijk bezig met verschillende literaire genres uit de postklassieke, Byzantijnse en moderne tijd. Er is een constante wisselwerking met an­tieke en moderne methodologische modellen en literaire theorieën, zoals klassieke retorica en narratologie. Ruime aandacht wordt ook besteed aan vertaalweten­schappelijke toe­passingen.
Ook het taalkundig onderzoek bestrijkt de volledige geschiedenis van de Griekse taal, van Homeros via de Griekse Bijbel tot de Nieuwgriekse dialecten. Ook hier bestaat een constante wisselwerking met moderne taalkundige theorieën, in het bijzonder cognitieve en functionele mo­del­len.
Daarnaast kent onze afdeling een lange traditie van filologisch onderzoek, met bijzondere aan­dacht voor tekstkritiek en papyrologie.
Onderzoeksgroepen
Onze onderzoekers zijn actief in verschillende onderzoeksgroepen, aan de UGent en daarbuiten.
Lopende onderzoeksprojecten
Stage
Verschillende onderzoeksprojecten binnen onze afdeling bieden stageplaatsen aan.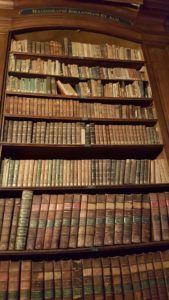 Je kan stage lopen in het kader van een Master of Arts in de Historische Taal- en Letterkunde of een Master of Arts in de Vergelijkende Moderne Literaturen.
Ook een vrijwillige stage behoort tot de mogelijkheden.
We moedigen studenten ten zeerste aan om een stage te lopen! Dit is onder meer een excellente voorbereiding op later onderzoek.
Lopende individuele projecten
Bekijk zeker ook de individuele profielen van onze medewerkers op het onderzoeksportaal van de faculteit.