Love, papyri and pantoffels: that is the story our staff member of the month Serena Causo has in store for us! Tine Scheijnen talked to her while she is on a research stay in beautiful Paris. Read all about Serena's final PhD year, her travels and her enthusiasm about Ghent in the interview below.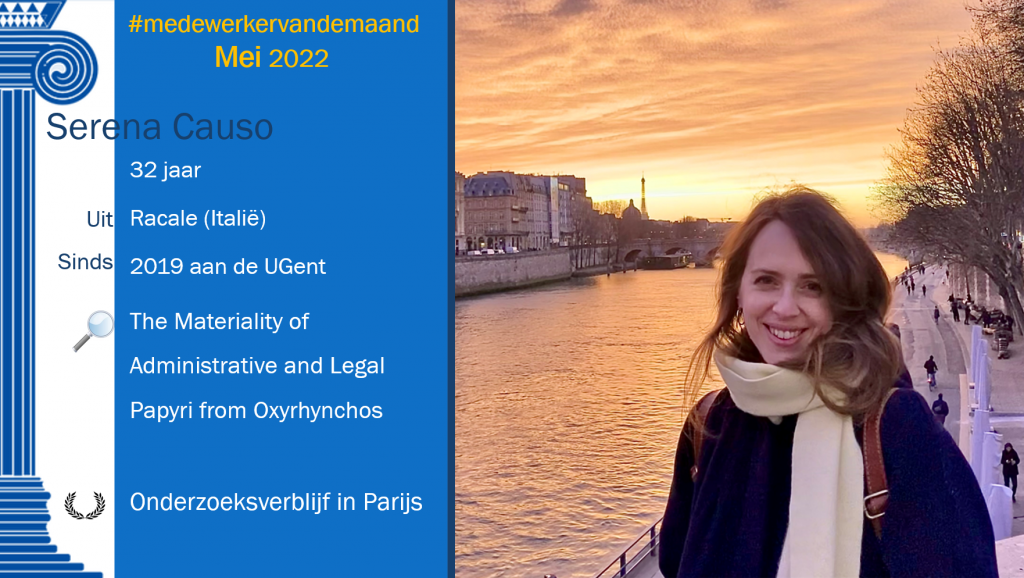 Dear Serena, this is the final year of your PhD! What are you working on for your dissertation? How are you getting along?
The last year, in the blink of an eye! I work in Gent as a member of the EVWRIT team, in which we explore everyday writing on papyri from different points of view: my job is to look at the materiality of administrative and legal texts. The materiality of written objects conveys strong cultural meanings, but they are definitely underexplored when it comes to papyri. Features as size, format, writing direction or distribution of text on the sheet were important tools both for the writer — who could frame the message according to the type of communication — and for the user — who could recognise a document at the first glimpse. "The medium is the message," to use the words of the visionary work by Marshall McLuhan. I reviewed and collected a great amount of data over the past three years and now it's time to look at the results. I love this phase of the research, which is quite bittersweet: on the one hand, I love it when the pieces start coming together or when I get a sudden enlightment, but on the other hand I am still looking for the skilled writer within me!
"All my destinations have been following the papyrological trail."
You have been in Ghent for quite a few years now. If you had to guide a colleague who had only just arrived, how would you introduce Belgium, Ghent and Blandijn to them? What advice would you give?
The beginning of a love story: In 2012 I had my very first experience abroad, in Belgium, through an Erasmus project in Liège. As it happens, at that time I fell in love with a Flemish guy, who offered me a Karmeliet – I had never had a beer before – and just like that my everlasting love for Belgian beers started, while the love for the guy ended soon after. Therefore, for starters, I would offer my new colleagues a cold beer on a terrace to get the love going, then let the streets of Gent do their thing. I would advise them to get a bike to move around like a local and follow the green routes along the Leie river outside the city, now that it's spring! Also, they should pay a visit to some of the Flemish masters: Van Eyck with Het Lam Gods in Gent or Bruegel with De Dulle Griet in Antwerp are definitely worth seeing, and so is the Roger Raveel Museum in Machelen aan de Leie is a perfect way to discover a great modern Flemish master. As for the Blandijn… the best discoveries are to be done there!
You were born in Italy. Before coming to Ghent, you also traveled to London, Leiden and Basel. How did you experience this academic globetrotting? Which part of your travels did you find most adventurous?
Exactly ten years ago I moved abroad, to work on my bachelor thesis at the Papyrological Institute in Liège. Since then, all my destinations have been following the papyrological trail. In London I worked on economic history; in Leiden I worked on an unedited papyrus for the first time; in Basel I approached papyri from an environmental history perspective and, finally, in Gent I started working on the materiality of papyri. The real adventure for me was to find out how a new place would shape my way of living, how new people would impact my life and how many new things I would learn from those experiences, both personally and academically. Many of the things I am proud of knowing today, I have learnt from my friends, my colleagues (they often coincide) and my supervisors. It has not always been easy, but the effort was certainly worth it. And here is what I cherish the most: the support and example I have received from the people I met made me aim for better things and made me believe I can achieve them, too.
"Paris is my rehab!"
Right now, you are in Paris for your research. What are you doing there? Covid has made that quite the adventure as well! Can you describe how this situation impacted (or still impacts) your experience?
In Italian one would say that I am quite a pantofolaia, I love the cosiness of the house, working from the sofa and having a hundred snacks a day, while wearing my pantoffels. For many years I tried to keep this under control, but Covid and the working-from-home policy have paved the way to disaster! Paris is now my rehab, I go out and work in the papyrology library – surrounded by trees and greenery – and from cafes. There are countless exhibitions and so many things to discover that whenever I am inside the house I feel like I am missing something out there. I am in Paris because I do a joint PhD between UGent and the Ecole Pratique des Hautes Etudes, home to my second supervisor — aren't I lucky! My first research stay in Paris was supposed to start in February 2020. Ça va sans dire: that never happened, but it is never too late to be inspired by Paris for some good writing.
Final question: days are getting longer, birds and flowers are awakening… What is your favourite season? What do you like about it? And what do you look forward to in this year, particularly?
Spring in Paris (which I recently found out), summer in Italy and autumn in Gent. As a rule, I like change, as long as it does not change to rainy and windy days. The current year has already been filled with discoveries, both personally and academically and I only look forward to what is to come! But I suggest asking me the question again in January, right before the end of my PhD!
We certainly will – good luck with everything and enjoy the rest of your stay in Paris!