Our employee of the month is dr. Marianna Thoma. She studied classics (papyrology) and law in University of Athens and University of Vienna, she defended her PhD in 2017, on "The Women's Status in Greco-Roman Egypt: Aspects of Their Economic and Social Life". She works as postdoctoral researcher at the ongoing ERC-project Everyday Writing in Graeco-Roman and Late Antique Egypt (I – VIII AD). Since she joined us after the start of the Covid crisis, we were wondering how she is doing in these unusual times. We interviewed her through digital (and hence coronaproof) channels.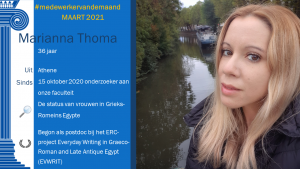 Hi Marianna! You joined us after the start of the Covid crisis hit the world. This caused you to stay at home in Greece while starting a new job here in Ghent. How are you fitting in?
You are right. I joined the ERC-project on 15th October when a second wave of Covid-19 infections had already begun in Europe. I remember that the day I arrived in Ghent, a Friday afternoon, the prime minister announced new restriction measures and a stricter lockdown in Belgium. My first days in Ghent were very difficult and strange at the same time. I needed to visit the university and the bank to complete some procedures, but everything was closed and teleworking was mandatory. Moreover, I joined a new team but I could not meet them physically. I could not visit our university office or the library and begin a normal academic life in Ghent. Thanks to professor Klaas Bentein who welcomed me very warmly together with two Greek members of our project team, Antonia and Emmanuel, everything started to seem better in the following days. During the first months of my work on the project I stayed isolated in Ghent also spending some time in Athens in quarantine too. In both cases, I had to stay inside, work from home and try to fit to the circumstances.
Could you tell us more about your part in the EVWRIT project? What are your specific tasks or topics you work on?
In spite of the strange beginning of my new postdoc position in Ghent, I love working on our EVWRIT project! At first, I had to discover a lot of things but now I feel that  working on this database of papyrus documents is very creative and productive. I have to check and correct a big number of annotations submitted by the rest of my team, paying attention to the social and legal background of the texts studied. At this period, I correct a list of occupations which are attested in the various papyrus documents annotated and come across rare terms signifying various jobs and offices of Hellenistic, Roman and Byzantine Egypt.
A typical question for any postdoctoral researcher: to what degree is your current research  connected to your PhD research? What direction would you like to go into with your research eventually?
That's an interesting question. When I joined the team, I felt a little isolated since my research does not focus on linguistics in which most of the team members are specialist. I have studied classics and papyrology and as a second BA degree I studied the law and history of law. As a doctoral and postdoctoral researcher my main areas of interest lie in the literary culture of late antiquity, social and economic history of Roman world, papyrus letters, women's status, family relations and the evolution of legal institutions in the Greco-Roman world. I believe that my doctoral dissertation about women's status in Roman Egypt is related to my postdoc position in the EVWRIT project in which I deal with various types of documents (letters, contracts etc.) and I am trying to better understand the social and economic relations between the parties of these texts, the legal context and the content of each document and investigate various aspects of everyday writing and life in Greco-Roman Egypt.
Do you have any plans for the period after Covid? Is there anything specific you miss doing?
Like most of us, I have missed a lot of things. After Covid, I wish to start travelling again. You know, a few days ago I participated in an international conference about women disrupting patriarchy organized by ICS in London. I was very sad I had to attend via Zoom and could not be there and meet all the speakers and participants. Moreover, I miss working all day in a library. And of course I have missed hanging out with my friends. Let's hope that we will all return as soon as possible to our pre-Covid way of life and everyday routine.
And as a final question: did you, like many other people, pick up any new – or old – hobbies while being stuck at home during the past year?
Being stuck at home for such a long period of time can sometimes have destructive effects on our mental and physical health, especially if we do not stop eating chocolates and chips 😊 Since I work for many hours every day, I do not have so much time for news or old hobbies. I usually walk for half an hour, weather permitting, and I have also started trying new recipes. I wish I could cook for all of you soon.
Before thanking you for this interview, I would also like to express my sincere thanks to professor Klaas Bentein, to University of Ghent for this new job and to my valuable EVWRIT colleagues Antonia, Emmanuel, Geert, Serena, Fokelien, Eleonora, Ezra and Yasmine for their warm welcome and support even if they could not meet me in person. I wish we will meet each other soon and enjoy together the beautiful city of Ghent!
We might make you keep that cooking promise sooner or later! Enjoy your day, and hopefully we can meet physically with the entire team very soon!