So close no matter how far…
#EmployeeOfTheMonth August, researcher and DBBE team member Lev Shadrin says "hi" from Russia. Read all about long distance team spirit, dodecasyllabic Fingerspitzengefühl and ukulele schedules in this interview!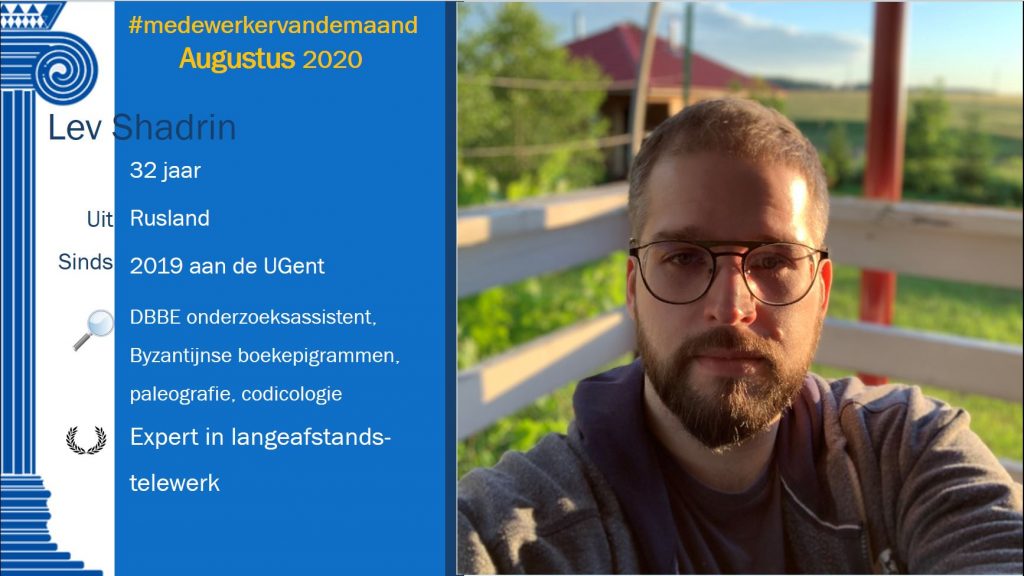 Dear Lev, as we are having this interview, there are quite a few miles between you and Ghent! How are you and your family doing? And can you give us a sneak peek of your "working-from-home" location?
Lev: Absolutely, thank you for this fantastic opportunity! Right before the coronavirus measures were implemented in March, I managed to catch one of the last flights and return home to stay with my family in Moscow. My daughter turned five in February, and the lockdown has been especially difficult on her, since her usual interaction with friends was drastically limited. We came up with a parents-child activity schedule (artfully implemented in crayons every Sunday) to make the lengthy homebound days bearable, and structure the limited time and apartment space between work and relaxation. Ukulele and chess lessons, yoga and gymnastics, Zoom seminars and Greek manuscripts came together to shape our, admittedly intensive, lockdown period. As the restrictions were relaxed slightly, we moved away from the city into a countryside house (also known as a "dacha," a staple of Russian countryside culture for centuries), which was a welcome change of pace and location. Gazing at the endless grassy fields and feeling a fresh summer breeze while transcribing a medieval manuscript is a unique experience indeed.
In retrospect, my return was the right call, and I am grateful for the support coming from my team and supervisors. My teleworking may be "longer-than-average"-distance, but it is fascinating how seamless and user-friendly the transition has been. The debate on the future of long-distance research and teaching is still ongoing, and I am curious to see how the existing technology will shape our approach and methods.
Working with manuscripts can get as exciting as following a detective investigation
You are affiliated to Ghent as a research assistant for one year. What are you working on? Why did you decide to come to Ghent?
Lev: Currently I am part of the wonderful research team, who have been compiling and maintaining the database of Byzantine book epigrams for over a decade. I mainly focus on investigating primary and secondary sources, from manuscript catalogues and articles to digital repositories, in search of new material to be identified, transcribed, and added to the database. My primary tasks also include updating the existing records, keeping them accurate, inclusive, and in line with our internal formatting regulations. There is a constant stream of scholarly contributions relevant to our research field, with new manuscripts being digitized all over the world, and exciting literary discoveries being published in academic articles. Therefore, I also focus on incorporating feedback from our numerous external contributors.
The concept of book epigrams is quite strict in its methodological definition; however, there are always grey areas to be aware of. A passage in verse may lack the paratextual relation within the manuscript, whereas another text may appear to be poetic only at a glance. The Byzantines often fused different literary forms together, combining prose and poetry, and this fusion is often apparent in the manuscript layout, where poems may be written in continuous "prose" passages without verse division. Therefore, it is essential to pay attention to secondary traits and details in order to identify the material relevant for our database. One of the basic – but nonetheless crucial – practical skills, which I have picked up during my first weeks at DBBE, involves tapping along with my fingertips while counting the syllables to keep track of the metrical structure. Invaluable when dealing with the commonly used dodecasyllabic metre!
Paleography has always fascinated me: working with manuscripts can get as exciting as following a detective investigation, searching for clues, witnesses, and suspects. During my MA at the Central European University in Budapest I was lucky to meet professor Floris Bernard, who introduced me to the world of Byzantine literature and poetry, and has later become my supervisor in Ghent. My decision to join the vibrant and highly professional UGent academic community was instantaneous. Similar to a manuscript folio, you can notice the formal traits, examine the layout, trace the ductus, recognize the scribal hand – and still trust your intuition to make the right identification.
Saying "good morning" in five different languages is almost therapeutic
Have you found virtual ways to keep in touch with Blandijn, during the lockdown? If we could pass on a message to your colleagues in Ghent, what would it be?
Lev: The team sticks together, even through the hardest of times. Chat messages have become the new primary form of our daily communication, and I feel that it is crucial to maintain group connectivity, especially during the teleworking period. We exchange messages regularly, discuss work-related issues, and share glimpses of our personal lives, the good and the bad. My mother was diagnosed with Covid-19 in April and had to spend almost a month at the hospital – the support my family and I have received from the team during that critical period was overwhelmingly positive.
We hold weekly video meetings, which are a wonderful way to keep in touch and see each other, even if only on a screen. Saying "good morning" in five different languages or sending greetings from our lockdown home offices is almost therapeutic in a way, as if I get to open a window to the outside world and check on my good neighbors.
I wish it was possible to send a long-distance virus-safe hug to each and every lovely person I have met during my time at UGent. I would appreciate if you could pass this on, with all the necessary precautions!
A garden does not bloom overnight
More than ever, this is a time to look forward! What would your ideal 2021 look like? Are you already making plans? Is there something good you want to remember from these strange times?
Lev: I feel that making plans for the future always involves reflecting on the past – it is, most likely, a result of my historian training. The past year has been challenging in many aspects, and once again I have come to realize the importance of human interaction, communication, and mutual support. I cannot possibly thank my colleagues enough for the time we have spent together at UGent, both in person and long-distance. Hopefully, in the year to come we will see the end of the pandemic crisis, and will be able to resume cultivating our connections and collaboration.
I find this horticultural metaphor to be most appropriate in these strange times: a garden does not bloom overnight, it requires regular tending, steady hands, and attentive care, especially in the wake of a disease. In the upcoming year I would like to focus on maintaining the delicate balance between my work and family – a challenging, but meaningful endeavour. I will continue exploring the wondrous world of manuscripts, branching out to source languages beyond Greek and Church Slavonic, and would also try my luck with a coding language. On the other side, my wife and I plan for our daughter to start school next September (they grow up so fast!), and we will do our best to make it a safe, enjoyable, and memorable experience for her.
We wish her and you a blooming transition back to a corona-free world as soon as possible… and hope to see you again once it is safe to travel, of course!